David Mundell launches attack on Boris Johnson
Related Topics
Conservative Party Conference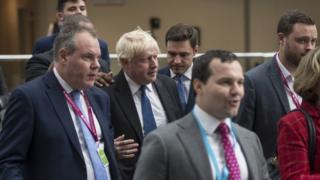 A UK cabinet minister has accused Boris Johnson of being "focused on his own self-interest and not on the interests of our country".
Scottish Secretary David Mundell was speaking as Mr Johnson denounced the prime minister's Brexit plan at the Conservative conference.
His fellow Scottish Conservative MP, Ross Thomson, was among those to greet Mr Johnson at the event.
But Mr Mundell said Mr Johnson was "not an asset" to the party in Scotland.
Several newspapers reported on Tuesday morning that the Scottish Conservatives would strongly oppose any attempt by Mr Johnson to replace Theresa May as prime minister.
The reports quoted party sources as saying they feared having Mr Johnson in Downing Street would damage the party's recent revival in Scotland.
Johnson calls May's Brexit plan a 'cheat'
When questioned about the reports by BBC Scotland, Mr Mundell launched a scathing attack on Mr Johnson, who quit as foreign secretary earlier this year over the prime minister's so-called Chequers plan for Brexit.
The Scottish secretary said people were "concerned about Mr Johnson's behaviour" and accused him of trying to create the "maximum amount of distraction and headlines for himself".
Mr Mundell, who spoke in the main conference hall on Tuesday, said: "Unfortunately Mr Johnson seems to behave in a way that suggests he is only focused on his own self interest and not on the interests of our country, and I find that very disappointing.
"I think what is a fact is that Mr Johnson is not an asset for the Scottish Conservative Party. I don't think people find that his behaviour is one that would endear him to voters.
"We have a very, very strong leader in Scotland in Ruth Davidson who had a very significant contribution to make to this conference. Her message was to rally round the prime minister as we move forward with Brexit."
Mr Mundell added: "I don't think this is a time to be talking about leadership challenges, it is a time to be supporting our prime minister as she takes forward this incredibly difficult task of getting a deal with the EU".
Defamation action
He also confirmed he had offered to give evidence for former Scottish Labour leader Kezia Dugdale in a legal action brought by pro-independence blogger Stuart Campbell of the Wings Over Scotland site.
Ms Dugdale is the subject of a defamation action after she branded a tweet Mr Campbell posted about Mr Mundell – who came out as gay in January 2016 – as "homophobic" in a column for the Daily Record.
The tweet said that Mr Mundell's son Oliver, a Conservative MSP, was "the sort of public speaker that makes you wish his dad had embraced his sexuality sooner".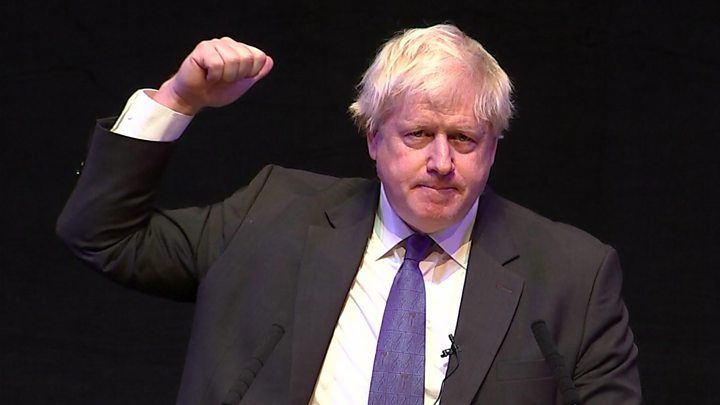 Mr Mundell said he had provided a witness statement to aide Ms Dugdale's defence in the case, and was prepared to appear in court if necessary.
He also said he and his son would do "anything we can" to help Ms Dugdale if necessary.
Mr Johnson's speech to a fringe event at the conference in Manchester drew a packed crowd, who heard him describe Mrs May's Brexit plan as a "cheat" that could lead to a boost for the far-right.
Mr Johnson said: "If we cheat the electorate – and Chequers is a cheat – we will escalate the sense of mistrust.
"We will give credence to those who cry betrayal, and I am afraid we will make it more likely that the ultimate beneficiary of the Chequers deal will be the far right in the form of UKIP."
Aberdeen South MP Ross Thomson, who has openly criticised the Chequers plan in the past, was among those to help Mr Johnson make his way through a media scrum as he arrived at the conference.
In a sign of division within the Scottish Conservatives over Brexit, Mr Thomson said the interest in Mr Johnson's speech showed that "people want to support Boris and others" in their attempts to "change Chequers".
And he contrasted the "real excitement" at Mr Johnson's fringe speech with the "empty" main conference hall.