Birmingham violence warning came day before stabbings
Related Topics
Conservative Party Conference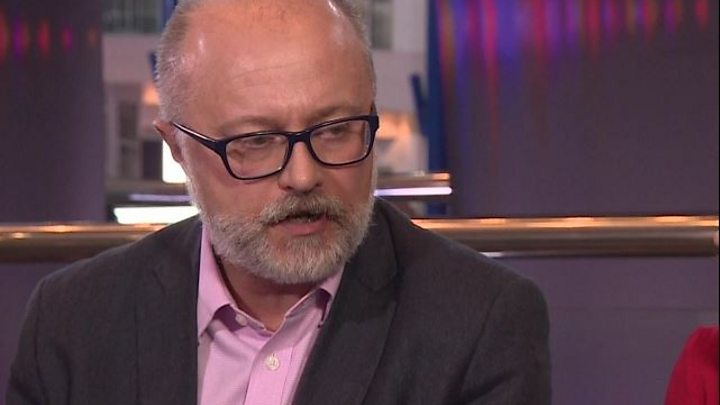 Stabbings a mile from the Conservative Party Conference in Birmingham came less than 24 hours after a warning about rising violence in the city.
Speaking from the venue on Monday a local newspaper editor told Newsnight "people are literally dying on the streets… 300 yards from [here]".
On Tuesday three men were stabbed near a McDonald's in the city centre.
West Midlands Police dealt with more than 2,000 knife crime incidents in the first six months of 2018.
Nine of those were fatal.
There were 23 fatal knife attacks in the region between May 2017 and May 2018.
Birmingham Mail editor Marc Reeves spoke to BBC Newsnight earlier in the week from the International Convention Centre (ICC) in Birmingham, which is hosting the conference.
"Literally 300 yards from where we are sitting, the story of knife crime is played out on the streets of Birmingham," he said.
"People are dying on the streets of Birmingham – they want to see that on the agenda for a change."
The attacks on Tuesday happened at about 17:45 BST in the High Street, about 300m from the Bullring.
Latest news and updates from the West Midlands
Witnesses said a group of about 100 teenagers had been in the area at the time and one man was left "seriously injured".
The others were in a "better condition".
Analysis
By Daniel Wainwright, BBC England Data Unit
In 2017-18 there were 2,850 knife-related offences in the West Midlands force area. That's up 19% in a year. But that increase is only slightly above the England and Wales average of a 16% rise.
The past year was the worst year for knife crimes in the West Midlands since 2010-11, when there were 3,018 offences.
When weighted by population, the latest figures work out at one knife crime for every 1,000 people in the West Midlands force area.
This is the third highest rate among the 43 forces in England and Wales.
In a speech on Tuesday, Home Secretary Sajid Javid announced a £200m youth endowment fund to focus on violent crime hotspots.
The BBC has asked the Home Office if and how the funding will be used in Birmingham.
Police Federation Chairman John Apter said the proposal was "nothing new".
"There are not enough police officers to cover the demand we already have; many of my members are at or beyond breaking point and the public are increasingly being provided with a substandard service," he said.
More than 2,000 police officers' jobs have been cut from the West Midlands force since 2010, according to the West Midlands police and crime commissioner.
The force's funding has also been cut by 24% – £145m – making it the second hardest hit force in the country, the National Audit Office found last month.