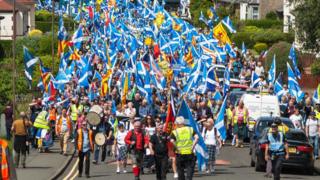 A ban on independence supporters holding a mass rally in Holyrood Park in Edinburgh remains in force, Historic Environment Scotland has insisted.
Tens of thousands of people are expected to join the All Under One Banner march through the capital.
But organisers were told they could not hold a rally in the park as events of a "political nature" are not allowed.
Historic Environment Scotland said on its website this remains the case, in spite of claims from march organisers.
Independence supporters began gathering in the capital on Saturday morning with the march due to set off from Johnston Terrace at 13:00.
Stalls and a small stage have been erected in Holyrood Park.
The park, which sits next to the Scottish Parliament building, is managed by the public body.
The clarification was issued after All Under Banner claimed that they had been "victorious" in their campaign to have the ban overturned.
The group, which says it expects up to 50,000 people to attend, wants to hold a rally in the park after the march reaches the Scottish Parliament.
Skip Twitter post by @AUOBSCOT
#AUOB are victorious! We have just left a lengthy meeting with Edinburgh council, Police Scotland and Historic Environment Scotland where an executive call was made by Police to facilitate our Rally at Holyrood park in the interests of H & S and public order. pic.twitter.com/VrbMcj4D05

— All Under One Banner (@AUOBSCOT) October 5, 2018
Report
End of Twitter post by @AUOBSCOT
In a statement posted on social media, the group claimed: "Police Scotland have made an executive decision in the interests of health and safety and public order to facilitate our stance that we are rallying at Holyrood Park and are implementing emergency powers to make this happen.
"HES maintained their political stance that we were still refused permission but after a long meeting where we held to our principles we are delighted to announce Holyrood Park is ours tomorrow."
The group also extended an "open invitation to all stalls to set up at the parade ground of Holyrood Park from 11am".
But Historic Environment Scotland told BBC Scotland that the police had not overturned the ban, and that All Under One Banner still does not have permission "for the set-up of stalls, staging, branding and other static presence within Holyrood Park".
A spokesman said: "Our position on use of the park for any rally after the march remains the same. It has not been overruled by Police Scotland.
"We wish to advise that the public will be able to access Holyrood Park as normal on Saturday."
A Police Scotland spokesman said: "This will be an operational matter, dependent on circumstances at the time, on the day.
"Police Scotland would only consider using emergency powers in the interest of public safety."
All Under One Banner believes they are legally entitled to use the park under the country's "freedom to roam" laws.
Autumn conference
They say the Land Reform Scotland Act allows them to remain in the park for recreational and educational purposes.
However, the rules say that the rights of others must also be respected.
Marchers will still be allowed to walk on the main road through the park as they make their way to the Scottish Parliament.
The march is the latest in a series of All Under One Banner events to be held across Scotland in recent months.
It is being held the day before the SNP's autumn conference opens in Glasgow.